How I Photograph a Painting
I only photograph my art work outside. Ideally I prefer to photograph my paintings on a bright sunny day, I like how direct sunlight makes my paintings warm and bright. The second best option is to photograph on a bright overcast day, this might be the easiest as I don't have to navigate glare on the artwork. Sometimes I am impatient for ideal weather and I try to photograph in lesser conditions. I usually end up regretting it because trying to get the colours correct in photoshop afterwards can be frustrating.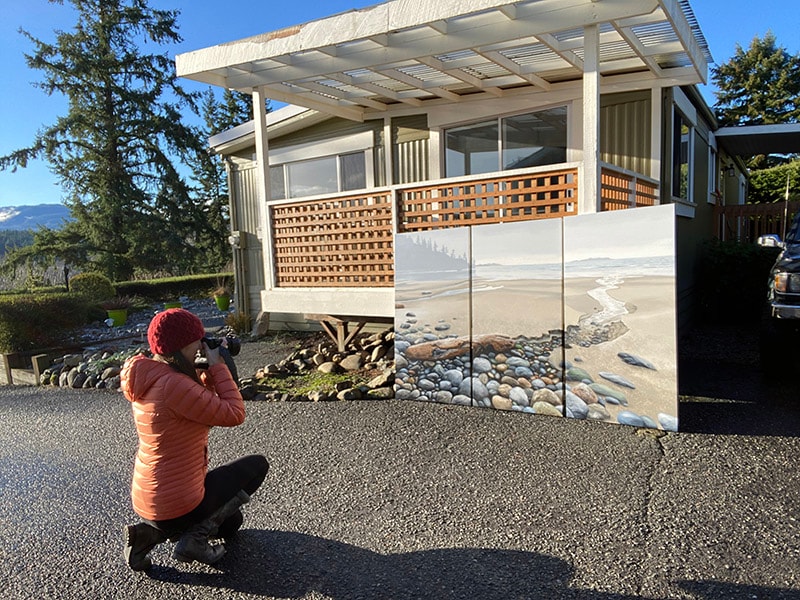 I used to be a part-time professional wedding and portrait photographer, so the camera I use to photograph my art is the same one I used for photographing people. I have a Cannon 5D with a 24-105 lens.
I start by finding the best place to lean my painting. I try to make sure it isn't a windy day or my painting might fall over, but if I am once again impatient and it is a little windy, I try to make sure there aren't any rocks or things that could put a hole in the painting if it did happen to fall. I used to lean my painting against my car, but as you can see above I've got a great spot to lean them against the deck at our new home.
I photograph in manual mode. I make an educated guess on what the exposure should be, then I do some bracketing. Bracketing basically means taking some more photos at different exposures close to the exposure I think it should be. Usually about three stops above and three below, this gives me the best chance that one of the photos will be perfect.
Then I put my photographs into Lightroom, a program I use to edit things such as density, tone, colour, etc. And finally I put the photos into photoshop where I edit the levels (making it darker/lighter or change contrast). I save 3 different sizes in photoshop for my different purposes: one is the finished full resolution file (biggest), one is a web sized version for my website, and one is turned into a square format for displaying on Instagram and Facebook. I don't know if other artists go through this whole complicated process, but this is just the system that I am used to.
Should you have any questions about my process, don't hesitate to ask!
*I usually try to photograph my paintings before I put the varnish on them. The photographs that I take are just for my records, my website and for Social Media. I don't use my own photographs to create prints. When it comes to making prints I prefer to have my work professionally photographed by Allan at Canvas Plus in Ladysmith as he does an excellent job!